Blogs
See how we make a vital contribution to society in general and vulnerable people in particular.
---
We were successful! CyberASAP 2022-23
14th March 2022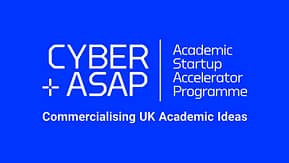 We are very excited to announce that our cross-faculty team has been awarded a grant to develop our HEIF funded project, led by Dr Jane Henriksen-Bulmer, through the Cyber Security Academic Startup Accelerator Programme 2022-23: phase 1 (CyberASAP).
"CyberASAP provides academics with the expertise, knowledge and training needed to convert their research into technologies, products and services in this key sector of the global economy. The programme creates a pipeline to move great cyber security ideas out of the university lab and into the commercial market." https://ktn-uk.org/programme/cyberasap/ 
CyberASAP is funded by the UK Department for Digital, Culture, Media and Sport and delivered by Innovate UK KTN and Innovate UK. Innovate UK drives productivity and economic growth by supporting businesses to develop and realise the potential of new ideas.  
Our idea: CyGamBIT – Cyber Game-Based Interventions and Teaching in Cyber Awareness Digital Literacy. 
CyGamBIT is designed to fuse innovate learning approaches with the high demand for educational cyber awareness content. It applies the motivational and engagement invoking elements of gamification and the embedded deep learning facilitated by game-based learning (GBL) to the complex landscape of digital literacy and cyber security.  
Digital literacy and resilience are essential skills to ensure young people have positive educational experiences online. Fostering these skills will support young people to be fully equipped to navigate the online world to prepare them for ever-evolving risks that the online world presents, enabling them to be protected against crime, fraud and emerging cyber threats (National Cyber Strategy, 2022). 
Using an interactive board game format, CyGamBIT is designed to address cutting edge digital threats, facilitating both individual knowledge acquisition, and group learning experiences for young people. CyGamBIT will be supported by a suite of function and facilitation options, designed for use across the education sector and professionals working with young people, including the third sector and social work organisations. The versatility of the CyGamBIT framework ensures the learning remains current and can be tailored to the needs to the target market.   
Our Team: Supported by Lesley Hutchins, BU's own Research Commercialisation Manager, the project brings together a diverse team across the Faculty of Health and Social Sciences and the Faculty of Science and Technology.  
Emily Rosenorn-Lanng – PI – Emily is a Research Project Officer and Part-Time PhD candidate, based within the Department of Social Work and Social Sciences, HSS.

 

Dr Jane Henriksen-Bulmer – Co-I –

Jane is an experienced business analyst and Lecturer (Academic) in Computer Science based in the Department of Computing & Informatics, FST.

 

Stevie Corbin-Clarke – Co-I – Stevie is a full-time Research Assistant based within the Department of Social Work and Social Sciences, HSS.

 

Davide Melacca

– Technical Research Assistant – Davide brings a unique combination of technical skills and game design experience to the team

 

Samuel Ware – Technical Research Assistant – Samuel will support all areas of technical development of the tool.

 
We are really excited about the opportunity to develop our idea and further our understanding of how we can realise the potential we believe the CyGamBIT has.  
For updates on the project, please follow the team on Twitter @ncpqsw and @emilypqsw. 
---
You may also be interested in ...