Blogs
See how we make a vital contribution to society in general and vulnerable people in particular.
---
Shadowing Social Workers: Finding the positive unintended outcomes.
21st July 2021
Shadowing Social Workers: Finding the positive unintended outcomes from adapting teaching and learning opportunities for the Pandemic
For our social work students one aspect of their relationship skills units is to have the opportunity to spend a day shadowing Social Workers in practice. During the pandemic it was not possible to arrange this, however we still wanted our students to have an opportunity to meet social workers, as this is one of the ways they get the opportunity to meet those from within the profession and have a chance to explore specific specialties such as child protection, learning disabilities, or working with looked after children. Therefore, I decided to reach out to the members of the Pan-Dorset and Wiltshire Social Work Teaching Partnership to see if anyone would be willing to support our students with a virtual online meeting. The idea was to give students a chance to ask questions and social workers a chance to share their experiences. Moreover, we also took this as an opportunity to help the students develop their professional skills, so they were asked to contact the professionals themselves to arrange the meeting, and also to write a thank you letter, which would include a reflection of their learning from the experience.
There was an overwhelmingly positive response from the social workers (n=50) , so we were able to arrange for each student to meet two social workers, from different areas of the profession. Therefore, I would like to take this opportunity to thank all those social workers who took part.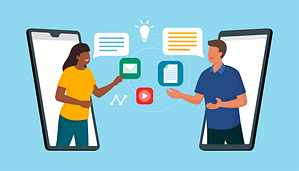 This activity gave the students the chance to explore with the social workers the practical aspects of their day job, and proved to be very useful in giving students time to think about what might be expected from them before they embarked on their second placement as a student social worker. A number of students really made the most of these networking opportunities and as a result were offered the opportunity to visit with that social worker, once restrictions had lifted, and gave others contact with someone who was willing to offer support and guidance in the future.
As part of this experience we also asked the students to share their learning with each other in the form of Padlet (a virtual whiteboard) so they could all benefit from the knowledge gained. This was also shared with the practitioners who had taken part, so that they could use it for their own CPD logs.
The positive feedback from both students and professionals was such, that despite us working to resume 'standard' practice for next year, this activity is something that we are looking to keep on our undergraduate programme and extend to our Masters programme.
Dr Orlanda Harvey
Lecturer (Social Work)
Faculty of Health and Social Sciences, Bournemouth University
Interest: Anabolic- Androgenic Steroid Use and Social Work
Twitter @arrowandthesong
---
You may also be interested in ...