Blogs
See how we make a vital contribution to society in general and vulnerable people in particular.
---
Reacting to the Pandemic: Development of online teaching material – A short case study
22nd October 2021
COVID created global challenges as lockdown forced a change in normal working and living patterns. Universities had to respond quickly to deliver education in new formats to enable students to continue their learning whilst in lockdown. Our experience of moving to online teaching illustrates the need for flexibility, clear communication, and consistency and the importance of a supportive team culture.
Working together across the Social Work team, we agreed an over-arching structure for units to create an engaging and consistent learning experience. This included live seminars, online activities and pre-recorded lectures. For me, the foremost consideration was ensuring the online learning experience was engaging, met different learning styles and included some student/lecturer interactivity, so students did not feel disconnected from the course. This was of particular importance as student feedback highlighted an appreciation of the practical elements of the sessions e.g.
'I… enjoy the interactional learning experience, it seems very practical based which is a good learning style for me.'
Several students emailed to say they were looking forward to the 'live' virtual classrooms as they had been finding the situation anxiety-inducing. As some students were not able to participate due to other priorities such as home-schooling or being key workers, we decided to record our 'live' sessions.
Our Learning Technologies Team ran a series of 'tech' sessions to help us develop our capabilities in using Brightspace, our virtual learning platform. This enabled us to re-structure content to more effectively support learner engagement, and present learning materials in different ways to match student learning styles. We used a range of teaching materials including video discussions with practitioners, pre-reading, quizzes, videos, pre-recorded PowerPoint lectures and individual reflective activities.
To prevent students feeling overwhelmed by more resources in Brightspace, we each used different ways to help guide the students through the materials, including short videos, structured narratives, and hyperlinked workbooks. Our hard work did not go unnoticed, and we received positive comments about the structure of materials, pre and live recorded videos.
A key aspect for students was to feel part of a community through on-going 'live' sessions. Therefore, we incorporated weekly, virtual 'live' seminars. This was daunting, and I was fearful of lots of blank screens. However, our students were amazing, and broadband allowing, the majority kept their cameras on. As teaching online was a new experience, colleagues dropped into each other's sessions, working together, when we had the capacity. We received positive feedback from both colleagues and students about our 'live' sessions e.g.
'I just wanted to say thank you again for the virtual lesson this morning. I really enjoyed the content and am loving the different tasks on Brightspace.'
One activity used in the virtual classroom to enhance participation demonstrates how online collaborative tools can aid student engagement. The Padlet online tool can help facilitate student's participation and learning, collect ideas and suggestions and encourage discussion from students who do not normally engage. I adapted a skills-practice activity to run on Padlet. Students wrote their questions based on a scenario (Fig.1). I also posted the Padlet on Brightspace after the session.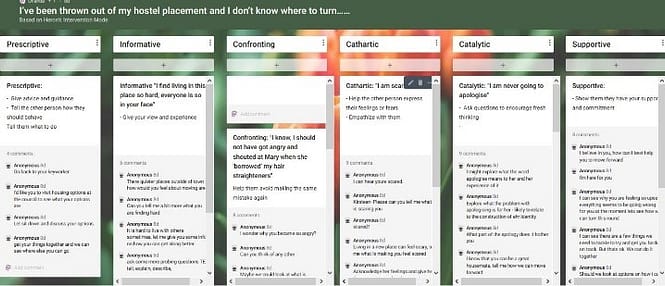 Fig. 1. Padlet Snapshot
Half of the students attending contributed, raising the question as to why some chose not to. There may be a variety of reasons including difficulty accessing the link, being uncomfortable with technology, lacking confidence in sharing opinions, or being uncomfortable with the topic. Therefore, I asked for immediate feedback via group chat e.g.
I enjoyed it too, this was a good visual learning tool for me
I found it good fun and really engaging!
Especially the anonymous bit, if I had a question I was worried about asking, it might encourage me to ask it
Interestingly, feedback was all positive and, I suspect this came from those who engaged. This experience is similar to using Padlet in the face-to-face sessions where some students participate more than others.
We kept an element of face-to-face teaching, so students could develop their practical social work skills. They enjoyed these sessions; however, they were hard to manage as we had a 200-seater lecture with 20 students (in masks) and students also joined us via a live zoom link. To support each other in the delivery of these full days of teaching we 'team taught' by bringing together different skills and knowledge from each unit into a blended session; for example, students explored different aspects of a case or situation, unpicked the applicable laws and policies, discussed the models, theories and methods that could be applied, and practiced key relationship building skills.
Overall, the 'live' virtual sessions were a great stop gap, but feedback from our fulltime students was that they missed being in face-to-face lectures, so we are now back in the classroom, but have continued with the workbooks and videos. Our CPD students, who are in practice, found the online learning environment practical and flexible, so we plan to continue these. A final reflection on the importance of collegiality. Our team met online weekly and shared top tips and creative ideas for online teaching, this was also a safe space to share our challenges and anxieties. I truly believe that the supportive environment that this created helped us to provide an engaging student experience.
References
Fisher, Cynthia D. 2017. "Padlet: An Online Tool for Learner Engagement and Collaboration." Academy of Management Learning & Education 16(1): 163–65.
Sundararajan, N, and M G Maquivar. 2017. "How to Increase Student Participation and Engagement Using Padlet: A Case Study of Collaborative Discussion in an Animal Sciences Course." Journal of Animal Science 95: 356.
Zhi, Qiao, and Mu Su. 2015. "Enhance Collaborative Learning by Visualizing Process of Knowledge Building with Padlet." In 2015 International Conference of Educational Innovation through Technology (EITT), Wuhan, China: IEEE, 221.
With thanks to Lee-Ann Fenge for her help in putting this blog together
---
You may also be interested in ...