Blogs
See how we make a vital contribution to society in general and vulnerable people in particular.
---
Leadership and Management Development for Social Work and Social Care
2nd March 2013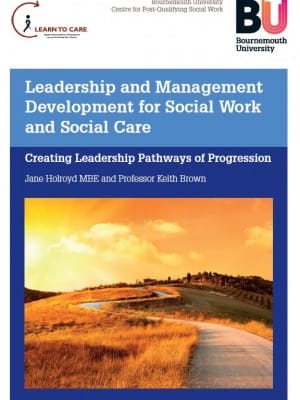 A new report that will serve as a blueprint for effective leadership and management in social work and social care has just been published by the Centre for Post-Qualifying Social Work at Bournemouth University.
Entitled 'Leadership and Management Development for Social Work and Social Care: Creating Leadership Pathways of Progress', the ground-breaking report is co-authored by Professor Keith Brown, Director of the Centre, and Jane Holroyd, MBE on behalf of Learn to Care, the body which represents workforce development managers from all local authorities in England.
The report provides the UK's first framework for establishing an effective Leadership and Management pathway in social work and social care whilst providing evidence of positive impacts made by authorities who have piloted the leadership modules within the pathway.
Over the coming weeks, every workforce development manager at all 152 local authorities will receive the report which Professor Brown says has been written in such a way to allow people to pick up and adopt its principles into their own strategies.
In particular, it directly addresses the major concerns and massive shortfalls in care and human suffering such as the Peter Connelly case.  Following this particular high profile case the Government initiated the Social Work Reform Board (2009) and the Munro Review of Child Protection Services (2011) and both these reports called for a clear leadership and management strategy for front line social work managers.
This new framework has been developed over the past 18 months and has involved rigorous testing and piloting with a number of local authorities. In particular Professor Brown and Jane Holroyd have developed a new underpinning theory and approach, Self-Leadership which critically emphasises the quality of thinking and developing the abilities to manage self as part of improving personal and organisational performance. Holroyd suggests this Self-Leadership model is applicable to all professions, whatever their managerial position, as all professionals will be leaders within their own sphere of influence.
The report also highlighted the critical role of assessment of learning by designing clear assessment strategies based on reflective practice. The candidates on the pilot sites were able to apply and develop their learning in practice within a leadership context, allowing for safe and effective leadership practice to be assessed.
There was also a broader evaluation of the significance of change and development within the pilot sites. An evaluation strategy was developed and used to measure and quantify the scale and significance of the change within the whole organisation and led to employers seeing real and significant return on investment.
Professor Brown is concerned that managers in social work and social care are not receiving the specialist training they required to improve the quality of care for children and adults throughout the UK. He warns that leaders and managers must take responsibility for their actions and for the actions of those around them, in order to provide quality care for the vulnerable. Indeed, he argues that it is only via clear, effective and accountable professional leadership that we will prevent and stop the types of institutional abuse seen recently such as the Winterbourne View case.
"We need a coherent and effective programme of leadership development for managers which can demonstrate, through appropriate assessment systems, that their behaviour has changed and that these changes are having a positive impact in practice," said Professor Brown.

"All too often, organisations have sent a few managers on a leadership programme but it hasn't produced whole organisational change," Brown continued. "These programmes haven't been about looking at the leadership strategies within the business of social work and social care. They have been generalist management programmes. There is an urgent need for leadership and managerial programmes which are designed to support leaders in social work/care to deliver effective, safe and robust services to the most vulnerable in our society."
The National Centre for Post Qualifying Social Work at Bournemouth University is at the leading edge of Post Qualifying social work education in the UK. It is by quite some margin, the largest provider of this type of education in the UK and has won a number of national and regional awards for its work. Indeed, in 2006 Professor Brown was awarded the Linda Ammon Memorial Prize sponsored by the then Department for Education and skills, awarded to the individual making the greatest contribution to education and training in the UK.
The Centre's portfolio of courses are designed to raise standards in social work practice and help those in social work and social care demonstrate their competence to work within complex situations with the most vulnerable in our society. The Centre works with over one third of all local authorities in England, over 70 major employers including training social workers within the armed forces.
Of particular note, this leadership framework was also developed to meet the requirements of the NHS Leadership Qualities Framework and it is anticipated that this will be of real value within the NHS context especially as we see increasing integration between the NHS and Local Authority community services in the coming months.
Conor Burns, MP for Bournemouth West, has hailed the framework as enormously important for the future of long term care in the UK.
"Reputationally for Bournemouth University, this is an incredibly important breakthrough," he said. "What Professor Brown and his colleagues are doing is to be commended and the University needs to herald what an amazing asset it is to have this Centre within the University infrastructure".
With respect to the majority of the strategies that social work/care employers utilise for their staff including leadership development he stated,
"What we are currently doing with social work and social care training is teaching without testing and training without measuring the impact," he said.

"As a state, we are spending millions and millions and not questioning the effectiveness of that spend. Ensuring the quality of care is a growing issue that will dominate the political debate in Britain and all other western countries for decades ahead. People are living for much longer than previous generations and our entire social model is going to have to adapt to reflect that and also in a scenario where there isn't going to be a lot of money around."
---
You may also be interested in ...