Blogs
See how we make a vital contribution to society in general and vulnerable people in particular.
---
Haikus: Using poetry to develop critical reflection in social work education and practice
4th April 2023
As part of International Social Work Week we delivered an online webinar/workshop, to practitioners to showcase how poetry (in the form of haikus) can support critical reflection on practice, which was based upon our research.
We shared how we had previously been working with students to develop their critically reflective practice by using haikus.  We had had very positive feedback from students (qualifying and post-qualifying) who engaged in this approach to critical reflection. The seminar we ran as a part of social work week, was on the research we have been conducting and therefore the session also offered participants to take part in the research.
To introduce ourselves we each wrote a haiku about one another:
Kathy Brennan (MA) and Jasmine Thomson (BA) were two of the social work students who had engaged in the activity as part of their learning and had taken this tool into their reflections on practice placements and are now engaged in the research with us.
The focus was on sharing our research findings, what we had learned from using haiku as a reflective tool ourselves.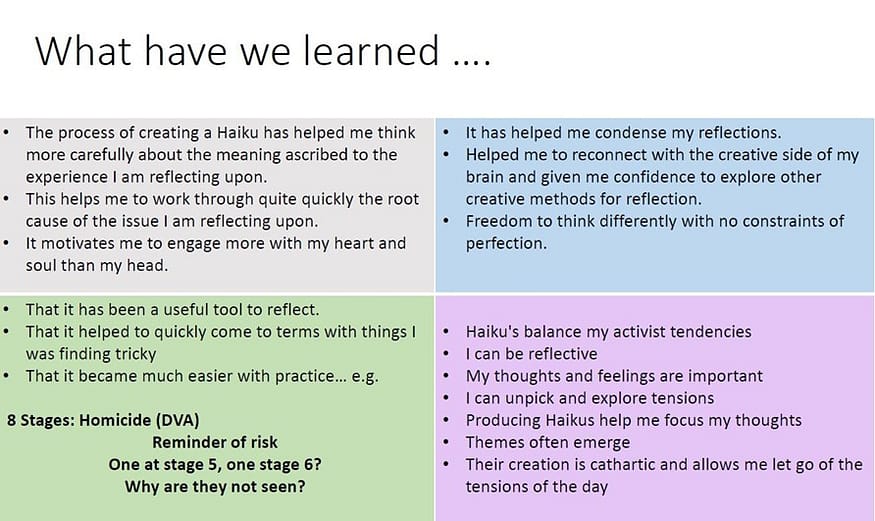 …and also getting our participants to have a go.
The workshop was received very positively by the 68 participants, with a number of the participants sharing both their own thoughtful haikus. They also fed back on how they would look to utilise this technique in practice both personally, and with their service users and students.
What was lovely about the session, was co-presenting with Kathy and Jasmine and them sharing both their own experiences of using the tools but how it has helped develop their critical reflection. Moreover, the power of the messages coming from practice through the haikus was poignant and insightful.
Another useful aspect of a co-delivered event is that the four of us can all use this for our Social Work Professional CPD records as part of our peer review and critical reflection on our practice.
We will be uploading a recording of the sessions here: https://ncpqsw.com/cpd/practice-education-hub/
Overall, we can advocate for taking the time to showcase research and creative tools for learning with practitioners.
Orlanda & Louise
harveyo@bournemouth.ac.uk (Twitter: @arrowandthesong)
loliver@bournemouth.ac.uk
---
You may also be interested in ...