Blogs
See how we make a vital contribution to society in general and vulnerable people in particular.
---
A passion for Social Work – Joint Social Work Education Conference (JSWEC) June 2023
28th June 2023
In June a number of Bournemouth University PIER (Public Involvement in Education and Research) Partnership members, students and academics attended the annual JSWEC conference in Glasgow. This was kindly hosted by the University of Strathclyde.
The Joint Social Work Education Conference is an annual in person event which has been revived post Covid, aiming to bring together national and international research and contributions to the knowledge base around social work education. This year the theme reflected concern around the 'turbulent and uncertain times that we are living in.' Presentations and workshops showcased examples of creative and progressive research to address core professional practice and education themes such as embedding anti-racist practice, strengthening the evidence base of social work, promoting social justice, creating cohesive practice communities and celebrating the unique contribution of social work as a profession. 
The conference created opportunities for BU academics Mel Hughes, Orlanda Harvey, Tilia Lenz, Louise Oliver and Ros Dray, PIER partnership, represented by Samantha Dawson and Christine Bondsfield and BA students, Jasmine Thompson and Emma Gennard, to celebrate and showcase a range of research. This included creative methodology in practice, for example use of poetry for critical reflection to encourage reflexivity in practice. Our presenters also shared collaborations with PIER partnership, showcasing participatory pedagogy which promotes learning from experts by experience and promotes social justice. In pre-qualifying and post-qualifying areas Tilia Lenz presented collaborative work undertaken with Dr Rejoice Chipuriro around resilience and leadership, and Ros Dray presented work to promote the identity of social work through a co-created project with PIER members sharing positive stories about social work.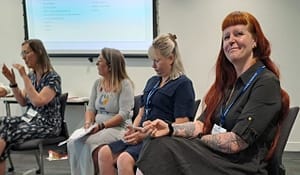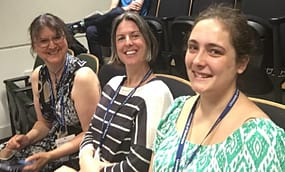 Exciting opportunities for collaboration and networking were created through conversations about workshops facilitated by academics, PIER members and students. This left us all feeling energised with possibilities. Harry Venning, the illustrator and creator of 'Clare in the community' captured for us the term 'passion-based learning.' This reminds us all of the value of making connections and re-discovering how our passion for education directly influences professional practice and community engagement.  
JSWEC organisers aim to take the conference to all four nations and different regions. It is a shared ambition that Bournemouth University will host the conference in the future. This could provide an exciting opportunity to showcase research in Social Work and Social Sciences disciplines; showing the diversity of our collective research, and how inclusive, creative and participatory research methodologies provide real engagement with communities, practice and education.  
 Ros Dray 
---
You may also be interested in ...