---
Three60 Development Tool and IPOP Course Impact Evaluation – Somerset County Council (2012)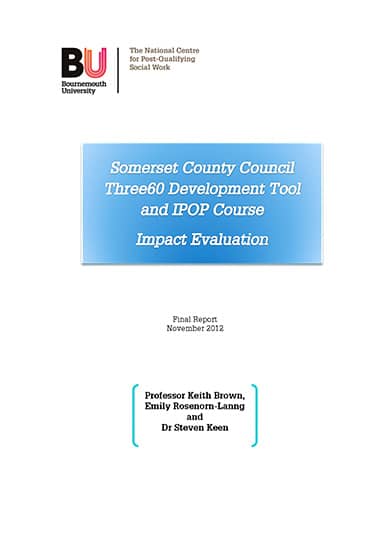 Commissioned by Somerset County Council

The National Centre for Post-Qualifying Social Work
Director: Professor Keith Brown
Research Team: Brown, K., Rosenorn-Lanng, E., Morrison, L. and Holroyd, J.
Year of Publication: 2012
The purpose of this project was to assess the impact of the Three60 Developmental Process developed by Somerset County Council and the Improving Personal and Organisation Performance Unit delivered by The National Centre of Post-Qualifying Social Work at Bournemouth University. Therefore this report is broken down into two sections looking specifically at each tool, with consideration given as to how they may interact to enhance professional development and future learning.
Somerset County Council's Adult Social Care Learning and Development Team have made a substantial investment in the development of an online Three60 Degree Feedback tool; the aim of this study has been to assess the usability of this tool and the impact of this process and therefore the value of this investment. To this end, on-line questionnaires and telephone interviews have been undertaken with reviewees, whilst reviewers completed a bespoke online questionnaire evaluating the Three60 process.
---
You may also be interested in ...