---
Social work issues and activity in the South West region (2009)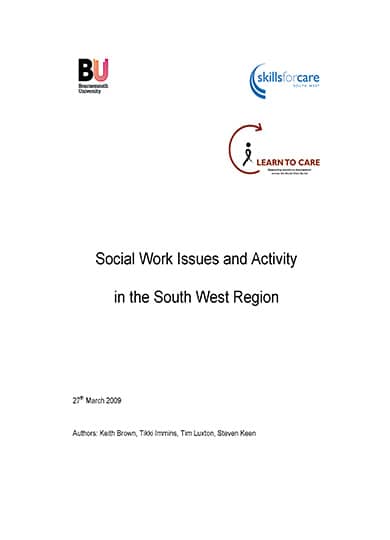 Commissioned by Skills for Care South West
The National Centre for Post-Qualifying Social Work
Director: Professor Keith Brown
Research Team: Brown, K., Immins, T., Luxton, T. and Keen, S.
Year of Publication: 2009
In 2008, the governance of funded activity for social work education and development, (from Skills for Care and the Children's Workforce Development Council) was brought together under the auspices of the Social Work Development Partnership Board. This board set seven objectives to be addressed by each region. These include increasing the supply and diversity of placements for social work students; improvements in the quality of placements and practice assessment; identifying the needs of employers' so they can be equipped to provide learning opportunities for students and staff; contributing to the piloting and preparation for the implementation of LeaRNS; and increasing the participation of people who use services and carers in work based learning for students and qualified social workers.
In December 2008, Skills for Care South West subsequently commissioned the Centre for Post Qualifying Social Work at Bournemouth University, in collaboration with Learn to Care regional representatives, to establish the position of employers, HEIs (Higher Education Institutions), carers and people who use services in relation to a number of the Partnership Board's objectives in the South West region.
---
You may also be interested in ...