---
Rethinking Systemic Practice: An evaluation of the Basingstoke Children's Services Pilot Model (2014)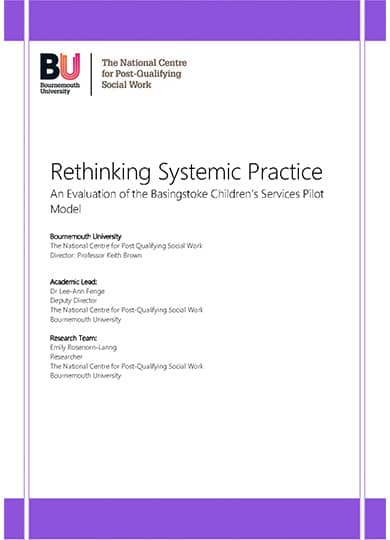 The National Centre for Post-Qualifying Social Work
Director: Professor Keith Brown
Research Team: Fenge, L.-A., Rosenorn-Lanng, E. and Brown, K.
Year of Publication: 2014
This report presents the findings of an evaluation into the pilot model adopted by Basingstoke Children's Services to develop a new way of working in Children's Services. The evaluation explores the effect of the implementation of the pilot model and a move towards a more systemic model of practice on service users, external partners and the staff involved in delivering services.
The learning from this evaluation will help to inform how Children's Services are developed and delivered across the whole of Hampshire. It is important to note that during the time period of this evaluation, a number of changes occurred to the proposed pilot model adopted and the teams involved in trialling it.
---
You may also be interested in ...