---
Pathways to Recruitment: Perceptions of employment in the Health and Social Care Sector (2015)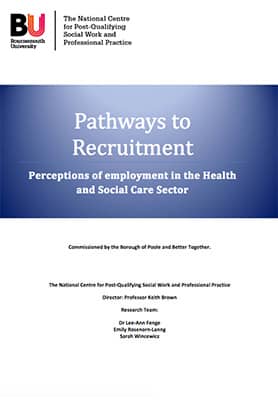 Commissioned by the Borough of Poole and Better Together.
The National Centre for Post-Qualifying Social Work
Director: Professor Keith Brown
Research Team: Dr Lee‐Ann Fenge, Emily Rosenorn‐Lanng and Sarah Wincewicz
This report provides the findings of an evaluation into the perceptions of the Health and Social Care sector from a variety of key informants who are currently employed in the care sector or who have may have potential for future employment in the care sector. The learning from this evaluation will help to inform the Borough of Poole (BoP) on its future workforce development needs related to this sector.
This evaluation aims to develop greater understanding of the incentives and barriers to the recruitment and retention of the care sector workforce now and in the future. The evaluation uses a longitudinal concurrent mixed methodology comprising of quantitative and qualitative data sourced via an on-line questionnaires, focus groups with key informants, and quantitative data sets.
---
You may also be interested in ...