---
Newly Qualified Social Worker (NQSW) – Induction Programme Evaluation (2013)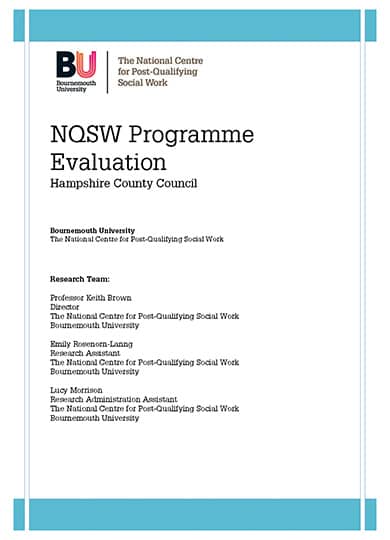 The National Centre for Post-Qualifying Social Work
Director: Professor Keith Brown
Research Team: Brown, K., Rosenorn-Lanng, E., and Morrison, L.
Year of Publication: 2013
The newly qualified social worker pilot programme was launched in September 2008 by the Department for Children Schools and Families and extended to all children's social workers in their first year of practice. The intention of the programme was to end variations in competence and experience among NQSWs in children's social care by setting national outcome standards.
From September 2012, employers and NQSWs have moved to a single Assessed and Supported Year in Employment (ASYE) programme covering both the children and families and adults' sectors. Therefore, an evaluation of the impact of the NQSW programme was required to ensure that gains made from the NQSW programme were identified, as are specific areas of develop, in order to inform the development of new ASYE programmes.
---
You may also be interested in ...