---
Local government social care workforce development expenditure: a survey of trends and funding (2010)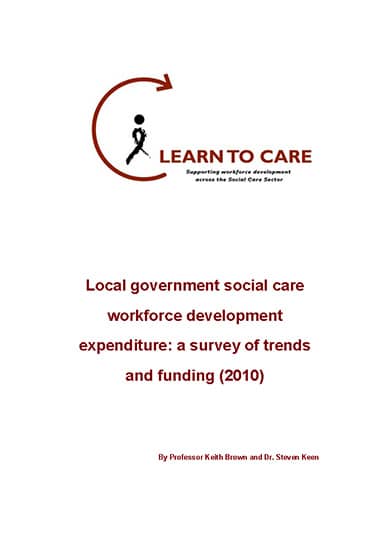 Commissioned by Learn to Care
The National Centre for Post-Qualifying Social Work
Director: Professor Keith Brown
Research Team: Brown, K., and Keen, S.
Year of Publication: 2010
Learn to Care (www.learntocare.org.uk) represents people engaged in the management and implementation of workforce development in the social care sector and has undertaken an annual survey of its members since 2004 to see how the Department of Health's and the now Department for Education's workforce development grants are being used in England. Members represent Adult and Children's services from 150 English local authorities.
This report details the findings from both 2010 surveys and compares them with their predecessors. The 2010 surveys asked questions around the workforce development grants; the funding of workforce development in the voluntary, independent and private (IVP) sector; and good practice examples.
---
You may also be interested in ...