---
Improving Personal and Organisational Performance – IPOP Evaluation (2013)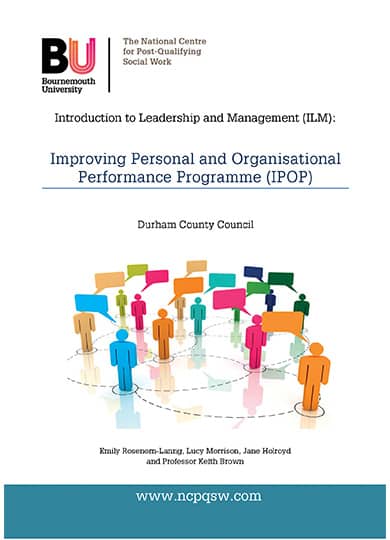 The National Centre for Post-Qualifying Social Work
Director: Professor Keith Brown
Research Team: Brown, K., Rosenorn-Lanng, E., Morrison, L. and Holroyd, J.
Year of Publication: 2013
This report provides evaluation feedback for the cohorts who undertook the Improving Personal and Organisational Programme.
The evaluation included an appraisal of the programme input, pre and post evaluation questionnaires, with follow up telephone interviews (three to four months after the programme finished), and an examination of the assignments written/ action plans and third party testimony. This mixed methodology was used to gauge the impact on the individuals, both in terms of professional and organisational impact, together with a more general evaluation of their course experience as a whole. The methodology is designed to assess the impact, both short and long term, of the learning undertaken, and validate this impact via the use of assessed action plans and third party testimony.
---
You may also be interested in ...