---
Developing the active and informed participation of people who use services and carers …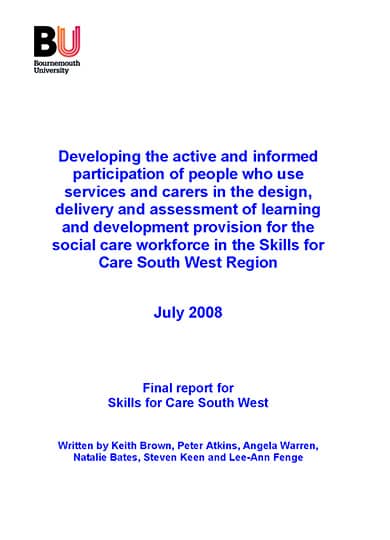 Commissioned by Skills for Care South West
The National Centre for Post-Qualifying Social Work
Director: Professor Keith Brown
Research Team: Brown, K., Atkins, P., Warren, A., Bates, N., Keen, S. and Fenge, L.-A.
Year of Publication: 2008
This report describes work undertaken at the request of Skills for Care exploring how people who use social services and their carers are involved in the education of the social care workforce in the South West Region.
The project involved the creation of a database of higher education institutions that currently make use of this expertise. It also looked at how people who use services and their carers have contributed to other aspects of social care education such as NVQs and helped to initiate the development of a regional group for those involved. While there was much evidence of involvement of users and carers throughout the region, there was little consistency in practice between the HEIs and in the definitions of user and carer involvement they used. There was less involvement of carers than of users overall and neither were involved to any great degree in NVQs.
---
You may also be interested in ...