---
Bespoke Leadership Development Day Evaluation – Hampshire Independent Review Services (2013)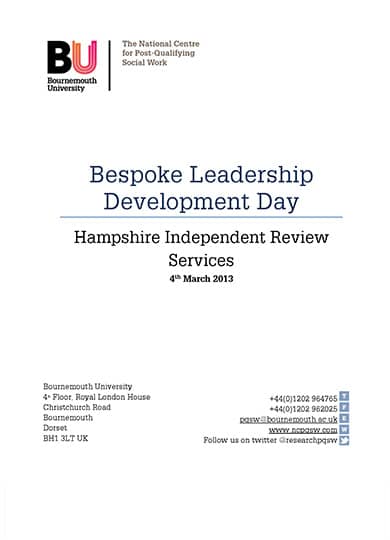 The National Centre for Post-Qualifying Social Work
Director: Professor Keith Brown
Research Team: Brown, K., Rosenorn-Lanng, E., and Morrison, L.
Year of Publication: 2013
Hampshire Independent Review Services commissioned the delivery and evaluation of a one day bespoke day focusing on Leadership development. This report provides the evaluation feedback from Independent Review Offices who undertook the training.
The National Centre for Post-Qualified Social Work is committed to evaluate their course in order to ensure continual development and improvement of our all elements of our course from administration and facilitation to course content and structure; this allows courses to be robust, tailored and consistent. This particular development day was a bespoke programme, designed exclusively for Hampshire Independent Review Services. This report will seek to reflect the experiences of candidates who undertook the course and also seek to reflect any areas for development identified and how this can be addressed to ensure a robust return on investment and expectations.
---
You may also be interested in ...