Publications
Choose whether you would like to view our publications available for digital download or whether you would like to order physical copies.
---
Safeguarding practice for those at risk of financial abuse from scamming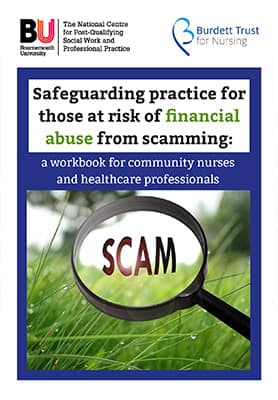 This learning tool, funded by Burdett Trust for Nursing, supports people who have experienced, or are at risk of financial abuse from scams.
Community nurses are likely to be in daily contact with adults made vulnerable by their circumstances, and are therefore ideally located to identify and support the victims of financial abuse. Every healthcare practitioner, whatever their role, has responsibility for safeguarding the people in their care.
Although financial abuse from scamming has been a long-term social issue it is only recently that the true range, reach and impact of personal fraud on health and wellbeing has been recognised. Advances in technology have increased the opportunities for scammers to reach beyond national boundaries, but 'old tech' fraud (relying on face-to-face encounters, mail or telephone contact) remains prevalent, often targeting the lonely, socially isolated and people in vulnerable circumstances.
To receive this free PDF via email, please fill in your details in the form below.
---
You may also be interested in ...