Publications
Choose whether you would like to view our publications available for digital download or whether you would like to order physical copies.
---
Financial Scamming and Fraud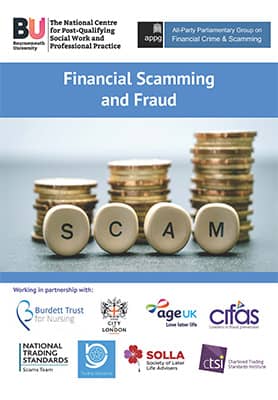 Financial scamming and its impact have been receiving a higher public profile in recent months, yet though it is a recognised as a growing problem, there is a lack of clear research and evidence into the scale of the problem, its causes and the impact on the public.
The National Centre for Post Qualifying Social Work and Professional Practice at Bournemouth University have been working with key national organisations in the UK to develop a better understanding of this issue, seeking ways and solutions to reduce the risk of financial scamming.
This work is far from complete and we are continuing to research and develop our ideas and understanding. If you would like to contribute your thoughts or ideas please contact us. It is only via our collective efforts that we will be able to tackle this growing issue and we positively welcome your input and support.
To receive this free PDF via email, please fill in your details in the form below.
---
You may also be interested in ...