Publications
Choose whether you would like to view our publications available for digital download or whether you would like to order physical copies.
---
Age UK Scam Prevention and Support toolkit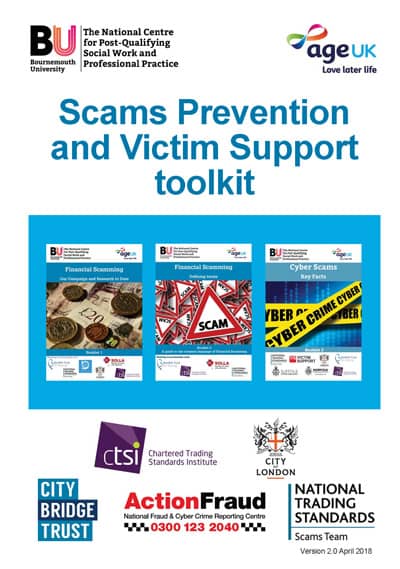 This toolkit has been developed by the National Centre for Post-Qualifying Social Work, Bournemouth University on behalf of Age UK as part of the Scams Prevention and Support Programme. The Programme is funded by the City Bridge Trust, to work in partnership with Action Fraud, to support older people who are at a high risk of being or who have been scammed. We hope the toolkit will be of use to you as an adviser. We aim to ensure that the information is as up to date and accurate as possible, but please be warned that certain areas are subject to change from time to time.
Please note that the inclusion of named agencies, websites, companies, products, services or publications in this information guide does not constitute a recommendation or endorsement by Age UK or any of its subsidiary companies or charities.
This toolkit was first published in January 2018.
To receive this free PDF via email, please fill in your details in the form below.
---
You may also be interested in ...