News
Find out what we have been up to and who is talking about us!
---
The Language of Scams 2020
28th April 2020
NCPQSW has been leading national research in the area of financial fraud and scamming for a number of years now, working with key national organisations such as the National Trading Standards Scams team and the Chartered Trading Standards Institute.
Over the years, one comment we often hear is 'Why were these victims so stupid or foolish to fall for the scam in the first place?' What is lacking is a clear understanding of how clever the criminals are in winning the confidence and trust of their victims.
Dr Elisabeth Carter has spent a great deal of time researching and understanding the 'persuasive impact and use of language' in order for the fraudster to convince their victims to part with their money. We therefore wanted to work together to produce this new set of guidance and advice to help citizens, but in particular community health and social care workers to better understand the power of the fraudsters. This guidance is designed to help those working in the community to support often isolated and lonely people so that they can better identify those people who are being defrauded and scammed, alongside practical advice on what to do and how to report these crimes. In particular at this time of writing we are in the middle of the Covid 19 pandemic with all the associated issues of 'shielding' and social distancing. For many people 'shielding' will be required for a considerable time and unfortunately fraudsters know this and they will actively target these very isolated citizens, seeing them as easy targets to make a profit from.
You are key in spotting these issues and identifying them in the community.
To download this PDF, click here.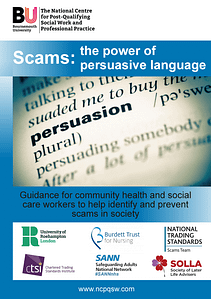 ---
You may also be interested in ...