News
Find out what we have been up to and who is talking about us!
---
Social Work CPD Newsletter November 2023
6th November 2023
Hi all,
Welcome to our November 2023 newsletter…
We are excited to share with you some of our latest news, information and up and coming CPD units!
Leadership 'Time of Change' Conference, 15th December 2023.
Places are filling up quickly and it looks to be another exciting event, with a keynote speech by Claire Winter, Director of CSC Somerset Council: 'Eye of the Storm'.
Agenda of the day:
09.30-09.45 Professor Lee-Ann Fenge: Welcome/Influencing Policy – Research as a Catalyst for Change
09.45-10.15 Claire Winter: Keynote
10.15-10.45 Tilia Lenz, Dr Rejoice Chipuriro and Dr Lyle Skains: Reclaiming Resilience
10.45-11.00 Break
11.00-11.30 Ithiel Zotorvie: Cultural Change and Integration of International Health Care Staff
11.30-12.00 Dr Orlanda Harvey and Sarah Green: Leading Change: Bringing Our People With Us
12.00-12.10 Break
12.10-12.40 Dr Rachel Arnold: Appreciative Inquiry – The Importance of Language
12.40-13.15 Panel
13.15.13.30 Tilia Lenz: Closure
Sign up here for your free place.
For further information, get in touch with Tilia Lenz (tlenz@bournemouth.ac.uk) or Dr Orlanda Harvey (harveyo@bournemouth.ac.uk)
The National Children and Adult Services Conference, 29th November-1st December 2023
We are incredibly delighted to share that Dr Orlanda Harvey and Dr Lou Oliver will be presenting (Challenging culture: violence against women and girls, Day 1, 15:30 – 16:30) at this year's NCASC conference, which is taking place at Bournemouth International Centre:
The focus of this presentation is on violence against women and girls, exploring the research conducted by Dr Harvey and Dr Oliver with professional/volunteer participants from health and social care, criminal justice and charity settings. We consider why, despite all the evidence, change is still needed and what small steps we can all take that could make the biggest difference. Together with a survivor of domestic abuse, the session will also highlight the lived experiences of facilitating/attending a group that supports victims/survivors of DVA. Delegates will then be encouraged to explore ways of bringing about change.
NCCDSW also have a stand in the Exhibition area on all 3 days of the conference, where various members of our team will be available to chat and answer any questions you have about our CPD courses and research. Come and say hi… there might even be a freebie or two! We look forward to seeing you there.
Find out more, take a look at the conference programme or book your space, here.
Critical Thinking Workshops
Our Critical Thinking Workshops have been very popular since we introduced them in October 2022! If you are an existing student on a CPD unit at Bournemouth University and would like some additional support, this workshop will explore issues of academic writing (including the dreaded writers block) and critical analysis of texts and sources. The academic team will offer practical, hands on support for assignment writing. The library and support staff will be available to offer advise on the use of the library, online searches for sources and referencing.
Our next workshop is 23rd November, and you can sign up, here: https://www.applycpd.com/BU/courses/116522?courseId=116522&tabId=27
Unit Showcase
Practice Observation – Jenny Bigmore
If you are looking for a self-directed unit which can be undertaken at any time, why not think about Practice Observation (Level 7, 20 credits):
AIMS:
The aim of this unit is for students to engage in a critically reflective process, which increases self-awareness, allows students to reflect on their own behaviour, biases, interactions, communication skills and overall effectiveness in their role(s) and supports the development of professional practice.
The aim of this practice observation unit is to demonstrate that the student has met the required standards for practice at an appropriate level as identified by the professional bodies and in line with relevant professional standards and/or competencies. This could include NHS standards for professionals working in health and social care and also the BASW Professional Capabilities Framework and/or SWE Professional Standards for social workers.
This unit can be undertaken as part of the MA Leading and Developing Services programme or part of the MA Advanced Professional Practice.
For more information, click here https://www.applycpd.com/BU/courses/115876?courseId=115876&tabId=27
PG Diploma Advanced Mental Health Practice (AMHP) – Dr Matthew Simpson
We have said goodbye to Debbie Martin, Christine Ireland, and Tim Shearn from the AMHP programme in the South-West. This is the end of an era and we wish them all the best in their new ventures. Bournemouth University will continue to provide an AMHP programme in the South-West, and we are in the process of seeking a new Course Director to co-ordinate this venture. Irrespective of that recruitment, the next course will run in 2024 (dates to be confirmed).
Our next cohort in London will be in the Spring, starting on 21st March 2024, with interviews being held in January 2024.
Click here to apply https://www.applycpd.com/BU/courses/115959?courseId=115959&tabId=27 the closing date is 22nd January 2024.
As always you will find the upcoming CPD courses below with direct links to our application portal.
If you haven't already, come and meet our Admissions Team in BG309 at Bournemouth Gateway Building. Claire and Ahlem are always on hand to help you through the admissions process.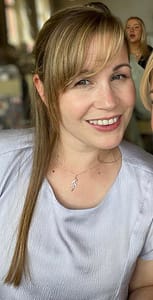 Claire Burbidge                                                                              Ahlem Boujnah
Claire and Ahlem ensure that Bournemouth University CPD online admissions are in line with professional body and employer requirements. You can also contact them via hsspostregadmissions@bournemouth.ac.uk (Office hours: from Monday-Thursday 8:30am-5pm and on Fridays 8:30am to 4pm).
"a big thank you from Claire and Ahlem who have appreciated your continued support processing applications via Wozzad and looking forward to the future with you".
Highlight
Re-imagining Secure Children's Home Design to Improve Outcomes for Children – Stefan Kleipoedszus
Caroline Andow and Stefan Kleipoedszus recently conducted a study involving staff who work in secure children's homes in England. Their aim was to uncover the motivations that drive these individuals to work in such a challenging and demanding environment. Through their research, they sought to gain insight into why these staff members find their work meaningful and rewarding. The findings of this research could prove invaluable to those looking to recruit and retain staff in this field. Lego Serious Play proved to be an effective and innovative way of collecting data on how to support recruitment and retention of employees. Through this method, it was determined that providing peer support, learning and development opportunities, and knowing that they are helping young people in care to succeed, were all factors that contribute to a culture that is beneficial for recruitment and retention. This data provides valuable insight into how to create a supportive organizational culture. The team have been working with a large group of local authorities to develop a new generation of secure children's homes. To learn more about their findings, please take a look at their policy brief which can be found at the following link: https://eprints.bournemouth.ac.uk/38405/1/emeraldopenres-188221%20%281%29.pdf.
Congratulations to all our graduating students
The 2023 graduation ceremony will take place at Bournemouth International Centre (BIC) on Friday 10th November 2023. We are all excited to celebrate the achievements of our wonderful students!
Thanks
---
You may also be interested in ...