News
Find out what we have been up to and who is talking about us!
---
Our Social Work Team was awarded the Vice Chancellor's Excellence Award!
22nd June 2022
I am so pleased that the exceptional work undertaken by my colleagues within the Social Work qualifying and post-qualifying teams at Bournemouth University has been acknowledged through the Vice Chancellor's Excellence Award.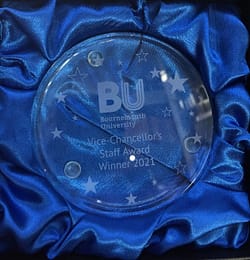 On 8th June 2022, we attended the VC Award ceremony (the first time this event has taken place in person since the COVID pandemic began). The Excellence Award is recognition of all the hard work the academic and administration teams have put into the last couple of years. This has ensured that students have continued to experience engaging and meaningful learning experiences, despite the challenges and disruption caused by the pandemic. 
It has been recognised externally that the Social Work degrees at Bournemouth University offer excellence in teaching, and we have been number one in the Guardian League table for the last two years running. The VC Excellence Award offers internal recognition of the teams achievements. 
It is also recognition of our distinctive fusion approach to research, education and professional practice. REF2021 saw BU's first submission for Social Work and Social Policy, UoA20. Our submission was built on the foundations of our two research centres the Centre for Seldom Heard Voices and the National Centre for Post-Qualifying Social Work, and our inclusive approach to engaging with marginalised and unheard voices of people on the edges of society. 
I feel so lucky to work alongside such an inspiring and supportive group of colleagues. 
Professor Lee-Ann Fenge 
---
You may also be interested in ...