News
Find out what we have been up to and who is talking about us!
---
How community nurses are on the front-line against financial scammers
13th December 2018
The Festive Season is no holiday for the victims of financial abuse – or for those especially vulnerable to the harm it can cause to health and well-being. We encourage you read this article by Prof Clare Cable: https://www.bigissue.com/opinion/community-nurses-can-help-combat-financial-scamming, which discusses the important work by Professor Keith Brown and Dr Sally Lee at Bournemouth University, creating helpful resources for community nurses on how to help adults who, for a variety of reasons, are particularly vulnerable to being cheated.
See: https://www.qnis.org.uk/what-we-do/seminar-on-safeguarding-those-at-risk-against-financial-abuse/ for further details on the workbook or download at the following link: Safeguarding practice for those at risk of financial abuse from scamming (795 downloads)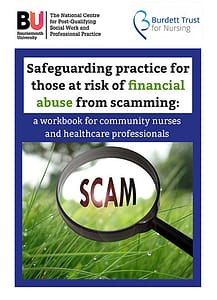 ---
You may also be interested in ...