Our Collaboration
In partnership with Learn2Care, the National Centre has produced over 20 key national documents issued to every UK local authority. In 2011 we produced with Learn2Care the Leadership and Management Development Pathway for Social Work and Social Care. At its heart was a concept of "Self-Leadership" which is a way of helping leaders manage their stress and remain focused in their professional judgement and decision making. As well as rolling out these programmes across England, they were delivered to more than 100 of our University own leaders, and had a real impact on their ability to manage their own stress.
The resources discussed below are part of our on-going commitment to supporting practitioners, and the organisations they work in, to continue improving the lives of those at risk of harm and who are experiencing abuse. We never forget at the centre of practice in safeguarding adults is a person in need of support and that is why the National Competence Frameworks in Safeguarding Adults and MCA have been issued to all local authorities in England and Wales.
We are offering the remaining stock of the below resources to previous Learn2Care staff members for FREE, if you simply contact jonesc@bournemouth.ac.uk. However, once they are gone, they are gone.
---
2012

Safeguarding Adults at Risk of Harm – Staff Groups B Workbook
In 2012, Di Galpin developed a range of resources to support qualified professionals improve practice and meet the requirements of the national capabilities framework. This included a workbook for professionals in Staff Group B as well as an on-line tool designed to enable professionals improve their practice in Safeguarding Adults at risk of harm.
The Safeguarding Adults Framework Evaluation tool (SAFE tool) provides practitioners with an easy to u  se resource, which they can use to both evaluate and develop their practice. In November, the National Centre held the highly anticipated Safeguarding and Mental Capacity Conference with Lord Justice Munby, Gary Fitzgerald, Rob Brown and David Hewitt as keynote speakers.
Leadership and Management Development for Social Work and Social Care – Creating Leadership Pathways of Progression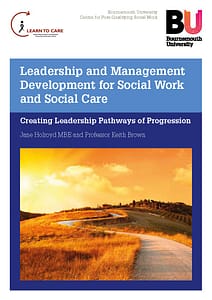 This document is intended to both reaffirm and challenge the thinking of leaders, managers and workforce colleagues irrespective of their work settings or status. It is applicable in both micro and macro settings. Indeed when we commissioned this work from Bournemouth University it was our aim to provide you, the reader, with advice, guidance and a means of making sense of the vast amount of rhetoric so that the focus could be placed on what really works.
We have taken a collaborative approach with partners in Skills for Care; the Children's Workforce Development Council and also the National Skills Academy for Social Care.. There are also very clear links to the recommendations of the Social Work Reform Board. This has enabled us to provide a well informed and current leadership and management development pathway that can enable outcome focused and effective commissioning and or delivery and evaluation of learning and development programmes.