Financial Scamming and Fraud
Financial scamming and its impact have been receiving a higher public profile in recent months, yet though it is a recognised as a growing problem, there is a lack of clear research and evidence into the scale of the problem, its causes and the impact on the public.
---
The Language of Scams
Cyber Fraud and Scams
Financial Scamming and Fraud
Downloads
Related Publications
Latest Articles
Helpful Resources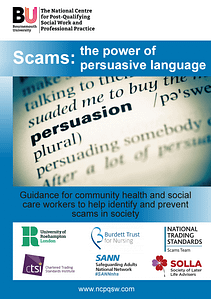 NCPQSW has been leading national research in the area of financial fraud and scamming for a number of years now, working with key national organisations such as the National Trading Standards Scams team and the Chartered Trading Standards Institute. Over the years, one comment we often hear is 'Why were these victims so stupid or foolish to fall for the scam in the first place?' What is lacking is a clear understanding of how clever the criminals are in winning the confidence and trust of their victims.
Dr Elisabeth Carter has spent a great deal of time researching and understanding the 'persuasive impact and use of language' in order for the fraudster to convince their victims to part with their money. We therefore wanted to work together to produce this new set of guidance and advice to help citizens, but in particular community health and social care workers to better understand the power of the fraudsters. This guidance is designed to help those working in the community to support often isolated and lonely people so that they can better identify those people who are being defrauded and scammed, alongside practical advice on what to do and how to report these crimes. In particular at this time of writing we are in the middle of the Covid 19 pandemic with all the associated issues of 'shielding' and social distancing. For many people 'shielding' will be required for a considerable time and unfortunately fraudsters know this and they will actively target these very isolated citizens, seeing them as easy targets to make a profit from.
You are key in spotting these issues and identifying them in the community.
Our new Cyber Fraud and Scamming guide outlines the major scams that the general population are facing online. It provides useful tips on how to spot and prevent fraud, as well as what to do if you find yourself a target.
On Wednesday 12th June 2019, the latest All-Party Parliamentary Group (APPG) report will be launched at the National Scams Team and Consumer Empowerment Alliance Conference. We were assisted in the production of this new publication by the National Trading Standards eCrime Team, The National Trading Standards Scams Team, The City of London Scams Team, Cifas, Chartered Trading Standards Institute (CTSI), Jungo and SOLLA.
This publications draws on the larger body of leading work carried out by NCPQSW and partners in relation to scamming and fraud and provides guidance to help people protect themselves and others from falling victim to this type of crime.
This document has been updated from our original work in order to support the work of the All-Party Parliamentary Group chaired by Conor Burns M.P.
Financial Scamming is a growing problem that is now being recognised as a crime.
The negative impact it has on individuals and society as a whole is gradually becoming clear as further research probes into the consequences and damage caused by financial scamming. It has already emerged that these criminals purposely target some of the most vulnerable people in our society, who sadly, are not always able to protect themselves.
The National Centre for Post-Qualifying Social Work and Professional Practice have been working in partnership with key national organisations and politicians to develop further research and raise awareness of financial scamming to develop a better understanding of this crime. We are working together to not only reduce the risk of financial scamming but to raise awareness to organisations and the public so that they too can join the fight against scamming.
This work is far from complete and we are continuing to research and develop our ideas and understanding. If you would like to contribute your thoughts or ideas please contact us. It is only via our collective efforts that we will be able to tackle this growing issue and we positively welcome your input and support.
This document has been updated from our original work in order to support the work of the All-Party Parliamentary Group chaired by Conor Burns M.P.
We have been working in partnership with key national organisations and politicians to develop resources to raise awareness of financial scamming.
These resources are available to order or to download, please click on the cover image below.
Our publications are part of our on-going commitment to supporting practitioners, and the organisations they work in, to continue improving the lives of those at risk of harm and who are experiencing abuse.  We never forget at the centre of practice in safeguarding adults is a person in need of support.
Our latest articles on this research
Action Fraud is the UK's national fraud and internet crime reporting centre. They provide a central point of contact for information about fraud and financially motivated internet crime. Report fraud to Action Fraud and receive a police crime reference number. Action Fraud is not an emergency service – dial 999 if you are in immediate danger. Available from: www.actionfraud.police.uk/report_fraud.
Action on Elder Abuse are a charity who work to protect and prevent the abuse of vulnerable older adults and protect other adults at risk of abuse. Available from: www.elderabuse.org.uk.
Age UK provide companionship, support, advice services for older people and families. Available from: www.ageuk.org.uk/.
Age UK befriending service
www.ageuk.org.uk/services/befriending-services/.
Alzheimer's Society provide advice and support for people with dementia and their families. Available from: www.alzheimers.org.uk/.
Banking protocol is aimed at ensuring banks and police are more active in protecting customers. It is being run as a joint venture between the police, Financial Fraud Action – which represents banks – and National Trading Standards. Available from: www.bbc.co.uk/news/business-39166130from.
British Bankers Association is the trade association for the UK banking sector. Available from: www.bba.org.uk/?s=fraud.
Cifas is a fraud prevention membership organisation, with the largest confirmed fraud database and members from all sectors. Their website has information for individuals as well as organisations. Available from: www.cifas.org.uk/.
Citizens Advice provides free, confidential advice about legal and consumer issues.
Available from: www.citizensadvice.org.uk/.
City of London Police – National Policing Lead For Economic Crime Annual Review 2016 – 2017 is available from: www.cityoflondon.police.uk/advice-and-support/fraud-and-economic-crime/Documents/ecd-annual-review-201617.pdf.
Cyber Aware is a cross-government awareness and behaviour change campaign delivered by the Home Office in conjunction with Department of Culture, Media & Sport alongside the National Cyber Security Centre, and funded by the National Cyber Security Programme in the Cabinet Office. Available from: www.cyberaware.gov.uk/.
Financial Fraud Action UK Take Five is a national awareness campaign led by FFA UK (part of UK Finance), backed by Her Majesty's Government and delivered with and through a range of partners in the UK to stop and think if what you're being told really makes sense. Available from: takefive-stopfraud.org.uk/about/take-five.
Get Safe Online provides information on online safety. Available from: www.getsafeonline.org/.
Joint Fraud Task Force. The taskforce is a partnership between banks, law enforcement and government to deal with fraud and to focus on issues that have been considered too difficult for a single organisation to manage alone. Available from: www.gov.uk/government/groups/joint-fraud-taskforce-management-board.
Little Book of Big Scams. Metropolitan Police. Available from: www.financialfraudaction.org.uk/wp-content/uploads/2016/09/The-Little-Book-of-Big-Scams-%E2%80%93-Third-Edition.pdf.
National Trading Standards eCrime Team tackle national online scams and support local and regional trading standards officers with e-crime investigations. Available from: www.tradingstandardsecrime.org.uk/.
National Trading Standards Scams Team tackles mass marketing. It works in partnership with agencies to identify and support victims of mass marketing fraud and provides guidance and best practice to assist local authorities in supporting local victims and enforcement action. Available from: www.nationaltradingstandards.uk/work-areas/scams-team/.
Office of the Public Guardian protects people in England and Wales who may not have the mental capacity to make certain decisions for themselves, such as about their health and finance. The OPG supervises deputies and registers Lasting Power of Attorney. Available from: www.gov.uk/government/organisations/office-of-the-public-guardian.
Operation Signature is the force campaign to identify and support vulnerable victims of fraud within Sussex; this model is being rolled out with other police forces. Available from: sussex.police.uk/advice/protect-yourself-and-others/fraud/operation-signature/.
Royal Mail Scam Helpline. Available from: https://personal.help.royalmail.com/app/answers/detail/a_id/303. Find out more about how Royal Mail are dealing with scam mail here: https://www.royalmail.com/dealing-with-scam-mail
RVS befriending service. Available from: www.royalvoluntaryservice.org.uk/get-help/support-at-home/good-neighbours
Silverline provide free and confidential advice and friendship, links to local groups and protects and supports people at risk of abuse. Available from: www.thesilverline.org.uk/what-we-do/our-helpline/.
Take Five is an awareness campaign designed to urge the public and businesses to take time to consider whether a situation they find themselves in is genuine. It is led by FFA UK (Financial Fraud Action UK) and its members with partners Cifas and the City of London Police. The campaign is backed by all the major banks and other financial service providers across the UK. A range of advice, videos and educational resources can be downloaded from: www.takefive-stopfraud.org.uk/.
Telephone Preference Service is the free registration service to opt out of marketing or unsolicited calls. Available from: www.tpsonline.org.uk/tps/index.html.
The National Crime Agency protects the public by disrupting and bringing to justice serious and organised criminals who present the highest risk to the UK. Available from: www.nationalcrimeagency.gov.uk/.
The National Cyber Security Centre (part of GCHQ) was set up to help protect services from cyber-attacks, manage major incidents, and improve the underlying security of the UK Internet through technological improvement and advice to citizens and organisations. Available from: www.ncsc.gov.uk/.
Think Jessica is a registered charity supported by agencies, organisations and police forces nationwide committed to raising awareness of postal and telephone scams, educating professionals and protecting vulnerable people from illegal practices. Available from: www.thinkjessica.com/.
Victim Support offer free and confidential support to help people feel safer and move beyond their experience of crime. Available from: www.victimsupport.org.uk/.
Which? Is campaigning for more action to prevent and stop scams. Available from: campaigns.which.co.uk/scams-fraud-safeguard/.
Debt advice such as:
Debt Advice Foundation
www.debtadvicefoundation.org/.
National Debtline
www.nationaldebtline.org/.
Citizens Advice
www.citizensadvice.org.uk/debt-and-money/help-with-debt/.
Christians Against Poverty
https://capuk.org/.
Working in collaboration with: