Events
See what we have been up to and find out about upcoming events near you!
---
Re-imagining Secure Care for Children
| | |
| --- | --- |
| Date: | Wed, July 20th, 2022 |
| Time: | 10:30 - 15:30 BST |
| Location: | Location NCVO, 8 All Saints Street, London, N1 9RL |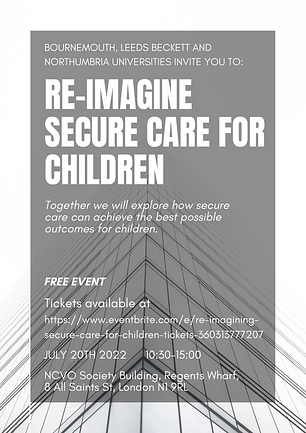 Calling all bright sparks. In this Unsolved Problems Unsession you will be active participants and collaborators. We are gathering 60 of the brightest, sparkiest minds in the provision of secure homes for children and young people to debate the open questions in our field, and create new approaches to solving them. The outcome will be a list of real problems that affect our daily work as professionals. Come and help shed some light.
Principles:
· Conferences are too one-way, too passive. We want more action.
· We want open, honest conversations about secure provision for children and young people.
· Bring your most courageous, opinionated, candid self.
· The stuff you're scared to mention, or you'd only talk about over a beer? Bring that.
· The minute you think you're right, you've checked out of the conversation.
· Listen with an open mind.
· This is an experiment.
· Failure is an option, it's just the least desirable one.
· Conversely, perfection is the least likely.
· Whoever shows up are the right people.
· What happens is the only thing that could have happened.
· There is no finish line.
· What we are doing is not definitive.
· Move fast and break things.
To register for the event, please go to the Eventbrite page, here: https://www.eventbrite.com/e/re-imagining-secure-care-for-children-tickets-360313777207